Iowa is one of the fascinating fishing opportunities in the Midwest of America; the habitat of various species includes an abundance of panfish, trout, walleye, muskie, and northern pike. 
Iowa's authorities have strictly enforced fishing regulations to preserve the natural diversity and protect endangered species. Different sites promulgate different sets of rules.
Anglers are encouraged to learn about the fishing rules of places they wish to fish. Specifically, you should acknowledge local authorities allow how many fishing rods per person in Iowa.
How Many Fishing Rods Per Person In Iowa? 
According to Iowa fishing laws, anglers are allowed to use 2 lines and 2 hooks when fishing. Single-pointed, double-pointed, or treble-pointed hooks are both considered as one hook.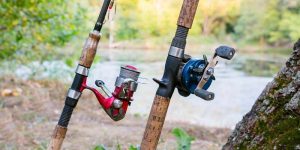 With fly fishing, max two flies attached to one fishing rod is acceptable. If anglers are bait casting or trolling, they can use two artificial tackles or trolling spoons on one line.
In terms of Iowa ice fishing regulations, you can utilize 2 fishing rods or 2 tip-ups, no matter how many holes you drill. 
Is It Legal To Fish At Night In Iowa?
Iowa's authorities do not permit night fishing at most sites, except for some particular areas. After 10.30 pm, all fishing vessels are forbidden and must be parked at marked spots.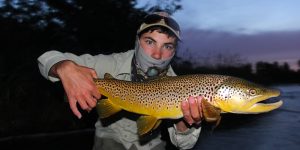 Here is the list of places whose opening time is from 10.30 pm to 4 am:
Clear Lake State Park Ritz Unit of Cerro Gordo County

Geode State Park of Des Moines County portion

Honey Creek State Park of Appanoose County

Lake Keomah State Park of Mahaska County

Lake Manawa State Park of Pottawattamie County

Union Grove State Park of Tama County
Is It Legal To Fish Off A Bridge In Iowa? 
Off a railway or roadway bridge is not an appropriate fishing location in Iowa. Even standing on a railroad bridge right-of-way is considered trespassing against the law, so fishing from a bridge is prohibited. 
The notorious example in northeast Iowa when a woman was crashed into by a train while catching fish off a rail bridge serves as a terrifying reminder of the risks. Fortunately, the woman made it through the tragedy. 
Fishermen are encouraged by the Iowa Department of Transportation to utilize public fishing spots. Alternatively, it would be best to ask the local freeholders for permission. The roadway shoulder is exclusively for emergency use and should not be used for parking vehicles.
Fishing In Iowa Without A License? It Is One Of The Biggest Holes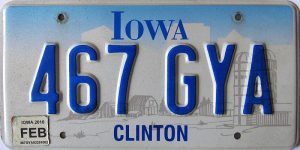 Residents and nonresidents under 16 years old do not need a fishing license if they wish to catch fish in Iowa. However, there are additional regulations for fishing trout, as young fishermen have to either accompany a licensed adult or purchase a fee for their limit of trout. Having a valid fishing license is essential.
If Iowa residents' family earnings fall below the federal poverty level established by the US Department of Health and Human Services, they are eligible for free annual fishing rights. 
The purchase of an IA fishing license is not required for persons over 65 or permanently disabled. It is necessary to provide documentation of your age, earnings, and benefits for permanent disability.
How Much Is The Fine For Fishing Without A License In Iowa? 
Depending on the committee chair, the fine for being found fishing without a license in Iowa is between $15 per fish and $1,000 for each threatened species. If you cannot settle it immediately, you could pay court costs.
How Much Is A 2022 Iowa Fishing License? 
Beginning on December 15th, 2021, resident licenses for hunting, fishing, and other activities will be offered for 2022. The price of Angler's Special Three-year fishing license is $62, while the well-liked Outdoor Combo of hunting, fishing, and habitat cost $55.
The Bonus Line option, which costs an additional $14, enables fishermen who are both residents and non-residents to use one more line out of the two lines permitted by the standard fishing license.
How Do I Get A Free Fishing License In Iowa?
Low-income seniors and those with permanent disabilities can get a free fishing license yearly or a combination hunting and fishing license. Please contact the Department of Natural Resources of Des Moines to find out more at (515) 281-2688.
How Much Is A Lifetime Fishing License In Iowa? 
There are two different lifetime fishing certificates that you might consider. The first option is the 65 years+ license, which costs 61.5 dollars. The other is the particular fishing license for trout, which costs $65 and is valid for more than 65 years.
Do I Need A Fishing License On Private Property In Iowa? 
In Iowa, fishing is frequently done on private waterways with the landowner's permission. If fishermen wish to fish in agricultural ponds or salmon streams, they must be at least 16 years old and licensed.
Only minors under 18 who are landowners or tenants are permitted to fish without a license on these properties. 
There is no daily bag restriction for bluegill or crappie in private waterways, but all fishermen must follow all fishing laws and guidelines, including bag limitations. On secluded inlets, there are no state-wide length restrictions.
Can I Sell The Fish I Catch In Iowa?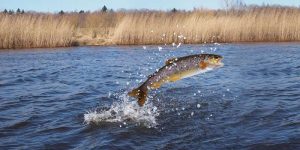 Any legally captured commercial fish, turtles, or their components are yours to keep and sell. 
To be preserved, catfish must be 15 inches long. Catfish smaller than 15 inches must be sent back into the water uninjured.
Commercial fish, commercial turtles, roe species, or turtle eggs are prohibited from being bought, sold, bartered, or traded.
Conclusion
Anglers should acknowledge Iowa fishing regulations and rules to show their awareness of protecting the future generations of species, even the simplest, like how many fishing rods per individuality in Iowa. You can update the latest fishing information by visiting the Iowa authorities' official website.