Most states in the US allow licensed anglers to use two angling rods at a time. However, some states will have different regulations to suit their geography or residents.
So how many fishing rods per person in Illinois? Does it follow the majority, or is there some other special policy? 
This article will answer you, along with related questions. Then keep on reading for more useful information!!
How Many Fishing Rods Per Person In Illinois?
In this area, licensed anglers can fish with two rods at a time. In the case of ice angling, they are allowed to fish with 3 rods.
Best stripper fishing rods for anglers to have a nice trip.
How Many Fishing Lines Are Required In Illinois?
Similar to robs, the holders are allowed 2 lines on common occasions. However, they can use up to three lines during the iced angling season.
How Many Hooks Are You Allowed In Illinois?
Any individual possessing a fishing license can use any legal gear for aquatic life, with a total of no more than 50 hooks. However, ice anglers can use up to three rods or angles but no more than two hooks per line.
Where Is The Best Fishing In Illinois?
In this State, there are many beautiful fishes to suit you with various features and other activities to go with it. You may refer to a few places below:
| | | |
| --- | --- | --- |
| Places | Feature fishes | Other activities |
| Lake Michigan | King salmon, brown trout, trout, coho salmon, and steelheads | Camp at  Beach State Park (6.5 miles along Lake Michigan) |
| Lake of Egypt (near Marion) | Bass and crappie | Go on a boat and camp fishing at the Buck Ridge Campground |
| Clinton Lake | White bass, crappie, walleye, striped bass, largemouth bass, and catfish | Camp at Clinton Lake State Recreation Area with over 300 campsites |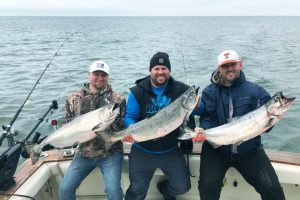 What Is The Fish Limit In Illinois?
Despite belonging to a state, each water area may have different regulations on the number and size of fish. Moreover, you should check the local rivers' information before going because they may be closed in a few seasons and not allow angling. For example, from the first of April to the fifteenth of June, many places will have their regulations on fisheries and releasing.
Fishes
Limits
Locations

Redear sunfish, white and black crappies, and bluegill

No limit

Nationwide

White bass, yellow bass, and striped bass

Under 17 inches in length

Not over 3 fishes/bag/day

Spotted bass, largemouth, and smallmouth

Not over 6 fishes/bag/day

Smallmouth bass

Not over 3 fishes/bag/day

Streams, not including the Ohio River and Mississippi

Trout and salmon

Not over 5 fishes/bag/day

Sauger, saugeye, and walleye,

Under 14 inches in length

Not over 6 fishes/bag/day

Paddlefish

Not over 2 fishes/bag/day
What Are The Fishing Laws In Illinois?
In addition to Federal regulations, this State also enacts laws based on local conditions. Specifically, the law was enacted to oblige anglers to comply to preserve fish populations for the future. Anglers must understand and follow the rules in the area and practice their catch and release consistently at any time so that fish populations can thrive.
Is Night Fishing Legal In Illinois?
Maybe. No specific laws govern whether you can fish at night in this State. However, some regions will have more detailed regulations for the activities they control. 
For example, at the nature reserve, you can go night angling at Deep Quarry Lake at West Branch Forest Reserve and finish the activity by 11 pm. Contrary, other places do not permit this activity.
How Much Is A Lifetime Fishing License In Illinois?
The permission for anglers in this State is divided into two categories for residents and non-residents.
In terms of residents, you can purchase a license for a short period of 24 hours, for $5.5, or a long period of 1 year, for $15. They also offer lifetime licenses for $435.
The highest price for this type of document is $765; used for one year and can be used when angling or hunting. In addition, the government will provide seniors, Super seniors, and veterans with separate papers at a lower price, with a one-year expiry date.
For non-residents, there are only three time periods of 24h, 3 days, and 1 year, with values of $10.5, $13.5, and $31.5, respectively.
What Happens If You Fish With No The Licenses In Illinois?
All waters of the State, including lakes, reservoirs, live streams, and streams, allow angling only by licensees. If you violate the provisions of the laws in this State, you can have your license suspended or revoked (if applicable), or worse, and you can be jailed for up to 364 days and fined up to $2,500.
However, anglers under 16 years old, disabled, and those in military service, resident or non-resident, are still allowed to fish even without a license.
How Do I Get A Fishing License Freely In Illinois?
This place has strict requirements for those who want to own a license here. However, if you wish to waive your right, then, according to be a resident of this State, you need to meet one or more other conditions, such as:
Persons with disabilities possessing a State Disability ID card with Type 2 or Type 2A.

Persons serving in the Armed Forces and serving in the State.

Residents bring children under 16 years old to

angling

. If you do not join in this activity, you do not need a license; otherwise, even if you help them, you still have to possess it.

Residents who own or rent a property with water or fishable areas do not need a permit. But, this case does not apply to residents living in the lake areas.
See more
How many fishing rods per person in Virginia
Wrap-Up
So the question: "How many fishing rods per person in Illinois" has an answer. You can use up to 2 fishing rods on weekdays and 3 angling rods on the ice. However, you must have a license before you catch any aquatic life in any water area if you do not want to be jailed or lose a fee!